A spotlight on the Japan Society
Since 1907, the Japan Society of New York has helped to cultivate mutual understanding between the United States and Japan through programs in the arts, culture, public policy, business, language and education.
Located on 47th Street and First Avenue, near the United Nations' headquarters, the Society's Japan House was designed by architect Junzo Yoshimura; when it opened in 1971, the Japan House was among the first New York City buildings designed by a Japanese architect. The Japan House features a 262-seat theater, an art gallery, a language center, a library and conference facilities. The building underwent a renovation in 1998, but Yoshimura's original vision still infuses the space, where visitors can enjoy indoor gardens, a reflecting pool and a waterfall.
The Japan Society of New York was founded by a group of businesspeople and philanthropists at the turn of the 20th century. An early champion of cultural exchange, the Society "sponsored the first important exhibitions of Japanese art, published important books on Japan written by American experts, and promoted the study of Japan in American schools and universities by distributing learning materials and providing funds for prizes at the collegiate level," writes Michael R. Auslin in Japan Society: Celebrating a Century, 1907-2007, a book that commemorates the 100th anniversary of the Society's founding.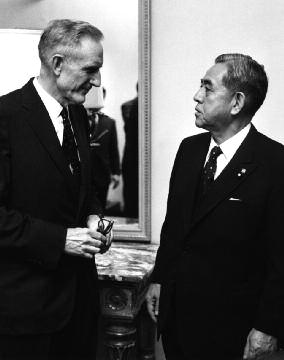 John D. Rockefeller III with Prime Minister Eisaku Sato at the Japan Society in 1967
In the 1950s, John D. Rockefeller III helped to expand and shepherd the Society as part of his commitment to supporting organizations focused on East Asian affairs. Rockefeller grew interested in the culture of Japan while serving as an advisor during Japanese-American treaty negotiations and policy planning at the end of World War II, and Japan eventually became his second home. Rockefeller donated the land on which the Japan House stands, and remained active with the Society for decades.
Today, the Japan Society holds performances, lectures and film screenings along with two major gallery exhibitions each year, which cover both traditional and contemporary Japanese art.
For more information about the history of the New York Japan Society and the Japan House, check out this article from The Clio.
You can also find the full text of Michael R. Auslin's book about the Japan Society at this link.
The Society offers a full schedule of events this fall. Here are a few upcoming highlights (all take place at 333 West 47th Street in Manhattan):
Watoji: Japanese Bookbinding will be held on Sept. 12 at 7 P.M. During this workshop, attendees can try their hand at Watoji, or Japanese book binding, with mixed media artist Amanda Hu. Participants will learn how to stitch together a personalized notebook, journal or scrapbook using this traditional Japanese sewing technique. Those of all skill levels will leave this workshop with a greater appreciation for traditional bookbinding as well as a charming memento of their experience. All materials will be included and tickets are $40 per person — $35 for Japan Society members, seniors and students.
How to Eat Like a Samurai will be held on Sept. 26 at 6:30 P.M. During this event, attendees will be taken on a culinary adventure by Kanna Himiya, author of The Samurai Gourmet and a descendant of the chef of the powerful Maeda samurai clan from Ishikawa Prefecture. Himiya will reveal the ancient recipes and eating habits of Japan's legendary military class. Attendees will learn how the samurai lifestyle was nourished by a simple, balanced diet which provided strength on the battlefield. The event is moderated by Michael Romano, chef and food ambassador of Ishikawa Prefecture. After the discussion, a book signing reception will be held, featuring sake and food samples from Ishikawa Prefecture. Tickets are $20 or $16 for Japan Society members, seniors and students.
Hiro Mashima: The Magical World of Fairy Tail will be held on Oct. 5 at 6:30 P.M. Known for his bestselling series Fairy Tail, award-winning manga artist Hiro Mashima will lead a talk in conjunction with New York Comic Con. With over 60 million copies sold worldwide, Fairy Tail follows a group of wizards in the fantasy world of Earth-land. Mashima will discuss his works, which also include the long-running series Rave Master. Tickets are $30 or $25 for Japan Society members, seniors and students.
Finding Zen: Uncovering Meaning in Art & Artifacts will be held on Oct. 18 at 6:30 P.M. This talk uncovers the rich artistic tradition of Zen and shows how everyday objects can provide clues into the complex thought that underlies a tradition known for its simplicity. Join co-editors of Zen and Material Culture Pamela D. Winfield and Steve Heine to dig beneath the stereotypes and explore the ways in which art and artifacts illuminate Zen thought. The talk will be moderated by award-winning novelist, filmmaker and Zen Buddhist priest Ruth Ozeki. Tickets are $14 or $11 for Japan Society members, seniors and students.
Kampo: Ancient Holistic Remedies of the Modern World will be held on Oct. 25 at 6:30 P.M. Kampo is a Japanese traditional medicine with unique theories and therapeutic methods originally based on Chinese medicine. Brought to Japan in the 5th century, the art of kampo then developed independently by incorporating new methods and making use of indigenous Japanese plants. Today, there are over 200 kampo recipes. Kampo practitioner and founder of Ido Holistic Center Dr. Yuko Nozaki will enlighten listeners on the history, practice and uses of these herbal formulas. The discussion will be moderated by herbalist Karen Rose, founder of Sacred Vibes Apothecary. Tickets are $14 and $11 for Japan Society members, seniors and students.
For further details about the Japan Society of New York, visit www.japansociety.org.